Abolition of Abortion in Oklahoma Act
Senator Joseph Silk, Republican from Broken Bow, Oklahoma, has authored Senate Bill 13, which proposes to establish justice for preborn persons by treating abortion like any other murder. Ask your State Senator to coauthor the bill.
ABOUT THE 2019 "ABOLITION OF ABORTION IN OKLAHOMA ACT"
Currently, Oklahoma's various abortion-related statutes are radically contradictory. One statute indicates that those who perform abortions are guilty of a felony, punishable by two to five years in the State Penitentiary, while another statute provides that those who hire an abortionist risk spending up to only a year in the county jail. Then we find another statute that contradicts both of these by specifically including an "unborn child" in its definition of homicide, while at the same time making exceptions for a "legal abortion." To top it all off, dozens of pro-life statutes enacted since 1973 have legalized abortion by spelling out the various means and methods of performing state-sanctioned abortions.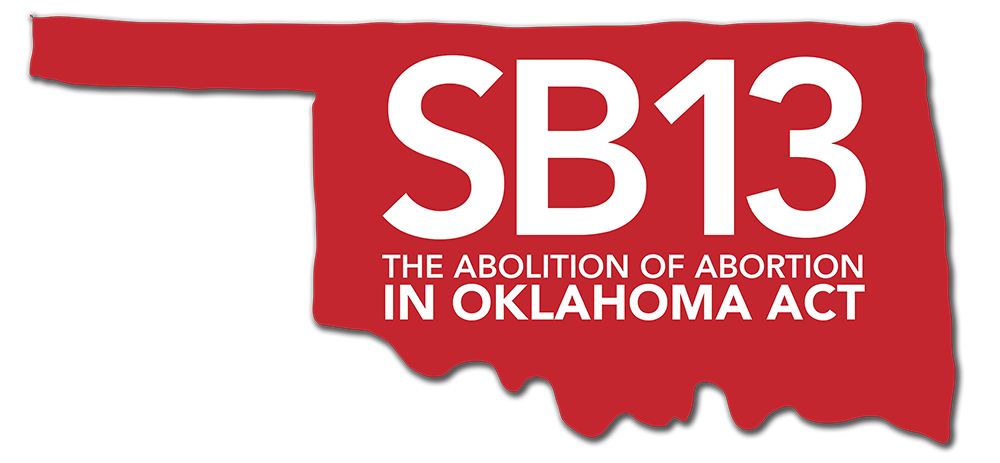 Therefore, Senator Joseph Silk, Republican from Broken Bow, has filed the "Abolition of Abortion in Oklahoma Act" (Senate Bill 13), which would rectify the confusion caused by Oklahoma's inconsistent statutes related to abortion. Senate Bill 13 provides a simple, easy to understand definition of abortion in the homicide code, and repeals any and all reference to legal abortion, thereby closing legal loopholes for abortion. Essentially, the bill would establish justice for preborn persons by treating abortion the same as any other homicide.
This is not the first time Sen. Silk has attempted to correct Oklahoma's abortion-related statutes. Republican pro-life leaders in the Senate killed versions of his legislation in 2016, 2017, 2018, and 2019.
KEY PROVISION IN THE ACT:
"It is the intent of the Legislature to provide to unborn children the equal protection of the laws of this state…and to treat as void and of no effect any and all federal statutes, regulations, executive orders, and court rulings, which would deprive an unborn child of the right to life."
IMPORTANT TERMS IN THE ACT:
"Abortion" means the act of using or prescribing an instrument, a drug, a medicine, or any other substance, device, or means with the intent to cause the death of an unborn child.
"Unborn child" means the unborn offspring of human beings from the moment of fertilization, through pregnancy, and until live birth, including the developmental stages of human conceptus, zygote, morula, blastocyst, embryo, and fetus.
"Fertilization" means the fusion of a human spermatozoon with a human ovum.
"Homicide" shall include, but shall not be limited to, acts which cause the death of an unborn child committed during an abortion.
CONTEXT OF THE ACT:
Abortion violates the Constitution of the United States:
Amendment XIV (and V) stipulates: "Nor shall any State deprive any person of life, liberty, or property, without due process of law; nor deny to any person within its jurisdiction the equal protection of the laws."
Amendment X stipulates: "The powers not delegated to the United States by the Constitution, nor prohibited by it to the States, are reserved to the States respectively, or to the people." Civil-criminal law was never delegated to the federal government.
Abortion violates the Oklahoma Constitution:
Article 2 Section 2 states, "All persons have the inherent right to life, liberty, the pursuit of happiness…"
Article 2 Section 7 stipulates, "No person shall be deprived of life, liberty or property, without due process of law."
Urge the following Senate leaders to support SB 13 to establish justice in Oklahoma statutes:
Lt. Governor and Senate President Matt Pinnell:  (405) 521-2161
Senate President Pro Tempore Greg Treat:  (405) 521-5632, treat@oksenate.gov

House leadership has failed to offer similar legislation, but House leaders should also be asked to sponsor Senator Silk's bill, or to author the same bill in the House: