ABORTION-RELATED LEGISLATION, OKLAHOMA 2020
SB 13 The "Abolition of Abortion in Oklahoma Act" – by Sen. Joseph Silk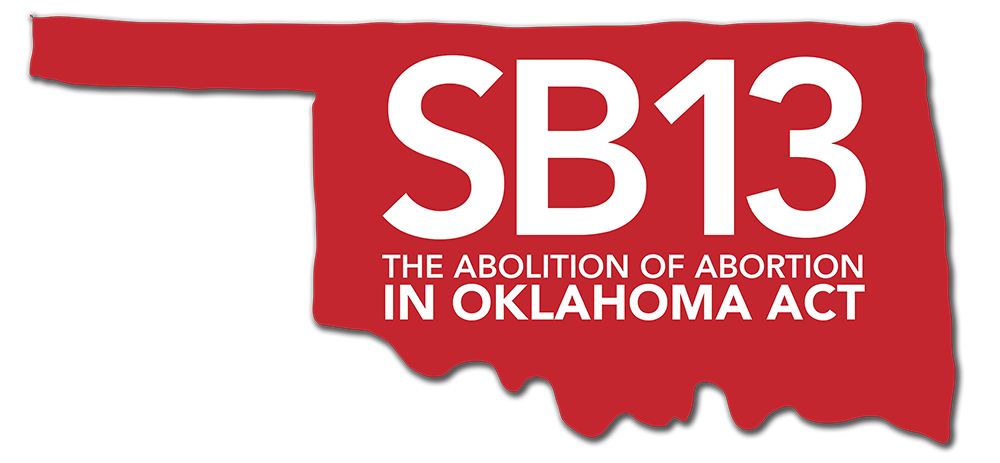 Key Language: "Homicide shall include, but not be limited to, acts which cause the death of an unborn child committed during an abortion."
Problems: None.
SB 1721 The "Unborn Person Equality Act" – by Sen. David Bullard & Rep. Tom Gann
Key Language: The bill would identify preborn human beings as persons in an effort to confer upon them Constitutional rights.
Problems: The bill contains a self-destruct mechanism which states that rights as persons are "subject only to the Constitution of the United States, and decisional interpretations thereof by the United States Supreme Court and specific provisions to the contrary in the Oklahoma Statutes and the Oklahoma Constitution." This clause means that Oklahoma would continue to allow abortion per opinions of the Supreme Court and per our own state statutes which have legalized abortion. The bill would specifically deprive human beings created by in vitro fertilization of Constitutional protection.
SB 1728 The "Unborn Person Wrongful Death Act" – by Sen. David Bullard & Rep. Tom Gann
Key Language: This bill would add parents and grandparents to those who can sue for Wrongful Death in the case of abortion.
Problems: The bill would not criminalize abortion. There would be liability for Wrongful Death only if the abortion were performed in violation of standing pro-life laws such as failing to secure voluntary and informed consent. It would leave intact and reinforce current statutes which provide for legal abortion. The bill would specifically exclude any possibility of Wrongful Death pertaining to human beings not located in the uterus. The bill would leave intact an existing blanket immunity from liability for all mothers.
SB 195 – Proposed Constitutional Amendment by Sen. Greg Treat & Rep. Jon Echols
As originally filed, the bill was a meaningless statement of personhood. Then, Sen. Greg Treat changed it to a trigger bill which would have surrendered Oklahoma's civil authority over abortion to the federal supreme Court. Finally, it was passed in the Senate as a proposed meaningless change to the Oklahoma Constitution. Status: passed the Senate 40-8; assigned to House Rules Committee.
Key Language: "Nothing in this [Oklahoma] Constitution secures or protects the right to perform or receive an abortion."
Problems: The proposed change would not criminalize abortion. It would leave abortion legal in Oklahoma.
HB 1396 – Ban on Sex-selection Abortion by Rep. Tammy Townley
Key Language: "No person shall knowingly or recklessly perform or attempt to perform an abortion after the sex of the unborn child has been determined…"
Problems: The bill includes the legal loophole of the word "knowingly," and it would be completely unenforceable. It would implicitly condone state-sanctioned murder and discriminate by not providing equal protection of the law to thousands of other preborn humans. Status: passed committee 8-2; not heard on House floor.
HB 2592 – Grants for "Choosing Childbirth Act" by Rep. Jon Echols & Sen. Greg Treat
Key Language: "There is hereby appropriated to the State Department of Health…the sum of Two Million Dollars…to make Choosing Childbirth Act grants…"
Problems: The bill would implicitly condone state-sanctioned murder. It would expend funds to fight abortion rhetorically, rather than in direct defense of innocent preborn humans, which would be the proper function of state government. Status: passed House 79-19; assigned to Senate Appropriations Committee.
HB 1182 / SB 867 – Revokes Medical License by Rep. Jim Olsen & Sen. David Bullard
Key Language: "Any physician participating in the performance of an abortion shall be prohibited from obtaining or renewing a license to practice medicine in this state."
Problems: This bill alone would not establish justice, since revoking a license is not an adequate response to murder. Also, it is not reasonable to argue that licenses could be revoked for performing legal, state-sanctioned and state-regulated medical procedures. This proposal would work only in tandem with the Abolition of Abortion in Oklahoma Act (SB 13).
SB 327 – Reports Compliance Infractions by Sen. Rob Standridge
Key Language: "The State Department of Health shall maintain on its website a list of all infractions discovered through investigations and inspections…"
Problem: This would do nothing more than shame abortion providers for not murdering babies in perfect compliance with state law.
last updated 1/22/2020